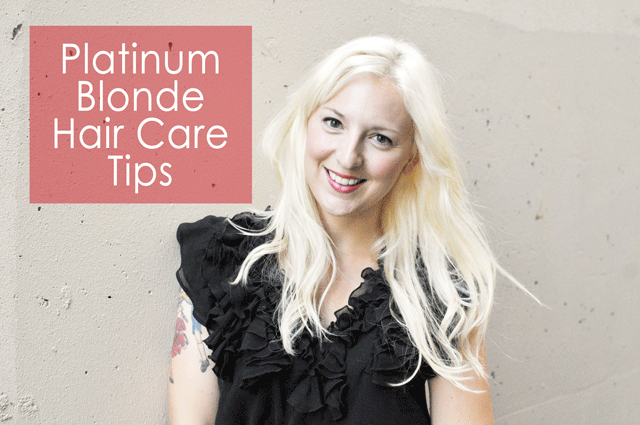 You might have noticed that I've had just about every hair-color and -style in the book! I've been brunette, auburn (for, like, a week), highlighted, balayaged, ombre'd, and bleached. I've had a bob, a euro-mullet and, of course, "
The Rachel
". Scroll down for a photo journal of just a few hairstyles I've had over the past few years.
The hair I've loved the most (and probably stuck with the longest): Platinum Blonde. I got it done back in
April of 2012
and I have learned a lot so I thought I'd pass on the knowledge because I get a lot of questions about upkeep, cost, care, etc.
YOU MUST START HERE: You must go to a stylist your first time! Have you ever heard of a successful at-home bleach-job? No? Me neither. Trust me: Go to a pro. They will know exactly how to bleach you and their products are good. I highly recommend an Aveda salon.
TOUCH-UPS:
There are some blondies who never let their roots show. (
Google Gwen Stefani
and you'll go through pages of photos without ever seeing a millimeter of roots). When I first made the switch to a "scalp bleach" I was having my roots touched up every 3 - 4 weeks. It got expensive and wasn't necessary. Once my stylist told me that I should go 6 weeks, I gave it a try and it was great! So now, every 6 (or 7) weeks is my plan. A root touch-up and tone can be expensive so I've been having Dan do my roots every-other-time. I know I know! I
just
told you to go to a pro but I save $100 by getting the salon treatment every 12 weeks instead of 6. If you're brave enough to do this, invest in a
mixing bowl
,
brush
, and some latex gloves. Each time you need your roots done, buy a fresh packet of bleaching powder and some developer (ask the clerk what kind you need). At the salon, pay close attention to the way your stylist touches up your roots and try to have your at-home-helper emulate the same pattern. Don't do it yourself.
UPKEEP:
People are often surprised at how healthy my hair is. My hair is not over-processed and yours doesn't have to be, either! Root touch-ups are done only on the roots so most of my hair has only been bleached once. But you still have to be very gentle with bleached hair. STYLING: I rarely blow-dry or heat-style. If you cant live without either, I would ask your stylist about a good heat protecting product or a leave-in conditioner. I also limit the products I use. Hair spray dries your hair out and dry blonde means breakage so use hairspray sparingly. WASHING: I also only wash my hair about twice a week. It can be difficult but that's where topknots and headscarves come in. I keep it fresh with dry shampoo between washes. Shampoo is really harsh on your hair. I use a gentle clarifying shampoo about once a week and always condition with a heavy-duty conditioner for dry/damaged hair. To keep it from yellowing, I recommend a purple shampoo like
Aveda's Blue Malva
or a cheaper version like
John Frieda
or
Clairol
. You only need to use this once a week but it freshens up the color and helps it last longer.
And, here it is... just a few of the many faces and styles of yours truly. How embarrassing! Have a happy Labor Day weekend, folks! Fall is just around the corner!